EYEBRIGHT Ⅱ 3 Bottles Package - 60 Tablets per Bottle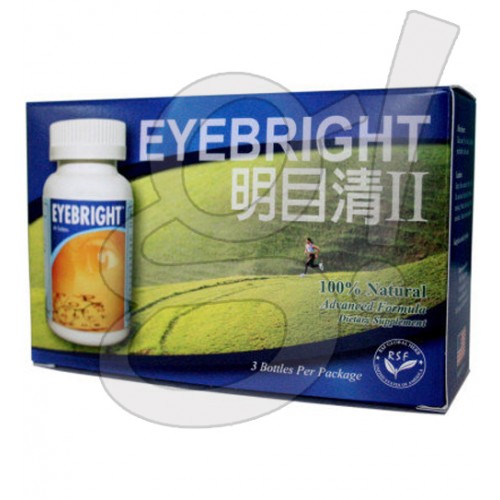 EYEBRIGHT Ⅱ 3 Bottles Package - 60 Tablets per Bottle
Poor or worsening vision

Photosensitivity

Headaches eyeaches

Read a lot

Stranined eye or fatigue

Macular degeneration and/or retinitis

Difficulty in focusing

Diabetes and its effects on the eyes

Crusty eyes

Worsening color vision

Medications effect on eyes

Dry or itchy eyes- Polluted air, etc.
If you answered yes to any of these questions and your Ophthalmologist (eye doctor) found nothing wrong, Eye-Bright? may be the answer or missing link to your eye health!
The progressive deterioration of the Macula or the central portion of the retina causes macular degeneration. The macula is responsible for focusing central vision in the eye (ability to see objects directly in front) and for processing sharp, clear images. Macular degeneration or damage to the macula results in the development of blind spots and distorted vision. Macular degeneration is a common eye disease affecting more than 10 million Americans.
Age Related Macular Degeneration
Age-related Macular Degeneration or AMD is a common eye disease that causes progressive damage to the central part of the retina, also known as the Macula. AMD is the leading cause of visual impairment in the United States, and blindness in senior citizens of America, aged 65 and older.