Hsu's American Gin-Max 90 Caplets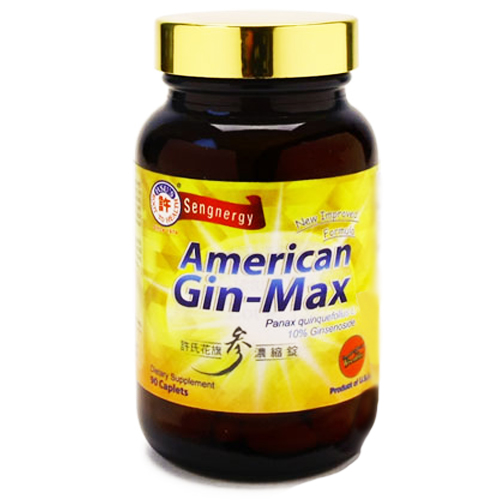 Hsu's American Gin-Max 90 Caplets
Find Your Sengnergy New Improved Formula American Gin-Max is unlike any other ordinary Ginseng product found on the market today. The new improved formula found in American Gin-Max allows for consumers to enjoy a high quality product, which is focused on higher ginsenoside concentration, and a consistent 10% Ginsenoside count per caplet. This means American Gin-Max has double if not triple the potency and amount of ginsenosides that you may find in other American Ginseng products. American Gin-Max has not only undergone a special process to make this product standout in quality, but is also created with our Wisconsin American Ginseng that we harvest right from our farm. By growing our ginseng from the ground up, it allows for us to give you the best quality ginseng product that Wisconsin has to offer. American Ginseng (Panax quinquefolius L.) is traditionally used to increase energy, relieve stress, enhance the immune system and provide overall health. American Ginseng is intended for long-term use. By using American Gin-Max it may allow for some of the best benefits that American Ginseng has to offer.
Common Reasons to use this product: - Sports/energy - Health Reasons - Relieve Stress The recommended amount of ginseng to take per day is 2-4 grams.
Suggested use American Gin-Max is 1-4 caplets about 40 minutes before a meal. American Gin-Max is also made in caplets to allow easy digestion and quick results.