Men Alive 60 Capsules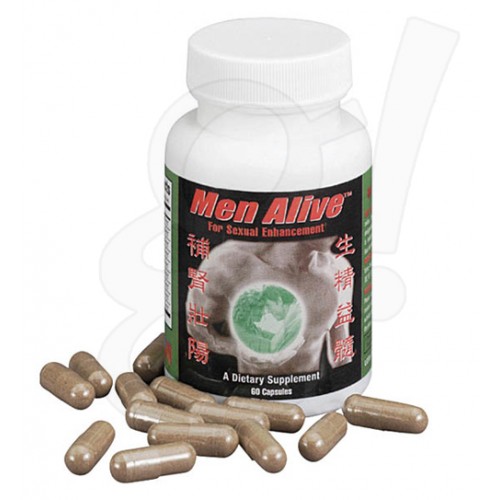 Men Alive 60 Capsules
Men Alive is an all natural diet supplement targeted for men's health and offers these benefits:
Prevents insufficient energy
Protects against lassitude and soreness in the waist and knees
Builds protection towards kidney deficiencies
Helps deal with fatigue and recovery
Directions
As a dietary supplement. Take 2~4 capsules each time, twice a day.
Warning
KEEP OUT OF REACH OF CHILDREN. FOR ADULT USE ONLY. PLEASE STORE IN A COOL AND DRY PLACE.
Serving Size: 2 Capsules

Servings Per Container: 30 Servings

Amount Per Serving
%DV
* Daily Value (DV) not established.
Percent Daily Values based on 2,000 calorie diet.
Proprietary Blend
1000mg
**
Eucommia Bark(Eucommia ulmoides)(Cortex)
**
Rehmannia (Rehmannia glutinosae)(Radix)
**
Ginseng (Panax ginseng) (Radix)
*
*
Deer Antler Velvet (Cervi Parvum) (Cornu)
*
*
Polyporus (Wolfiporia cocos) (Sclerotium)
*
*
Dong-Quai (Angelica sinesis) (Radix)
*
*
Cinnamon Bark (Cinnamon cassiae) (Cortex)
*
*
Cinnamon Twigs (Cinnamomo cassiae) (Ramulus)