Ultrusil 30ml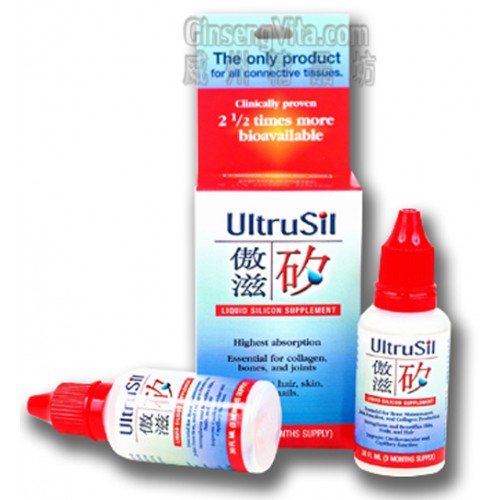 Ultrusil 30ml
Ultrusil®contains the Choline-stabilized orthosilcic acid. Ultrusil® is a patented product developed by Dirk. Vanden Berghe, PhD. director of Medicine University of Antwerp, Belgium. The Patent of Choline-stabilized orthosilcic acid (ch-OSA®) includes the advantaged biochemical technique and is registered in America, Europe and China. Ultrusil ®' s remarkable efficacy was proved by a series of clinical studies, it is a new food supplement that can enhance human body's function and improve our health in all aspect.
The human body contains approximately 7 grams of silicon. The daily dietary intake of silicon is estimated between 20-50 mg. As the food processed and refined through the modern technique used by the food industries, the silicon in our food is almost totally depleted. As people aging, their ability to absorb silicon is reducing dramatically. Silicon deficiency is a critical problem that affects the people's healthy in the modern society.
Instructions for use:
For skin, hair, nails and joints: Take 5 drops, two times per day. Mix in ¼ cup of fluid (preferably juice) and drink immediately. For bones: Take 6 drops, once a day. Mix in ¼ cup of fluid (preferably juice) and drink
Immediately.
For teenager, age from 14-18, take 3 drops a day.
For children, age from 7-13, take 1-2 drops a day.
Do not apply Ultrusil® to the eyes or to wounds.
Keep away from children.
For pregnant and breast-feeding women, please ask doctor for suggestions before taking it.
†These statements have not been evaluated by the Food and Drug Administration. This product is not intended to diagnose, treat, cure or prevent any disease. Keep out of the reach of children. Store in a cool dry place, tightly closed.